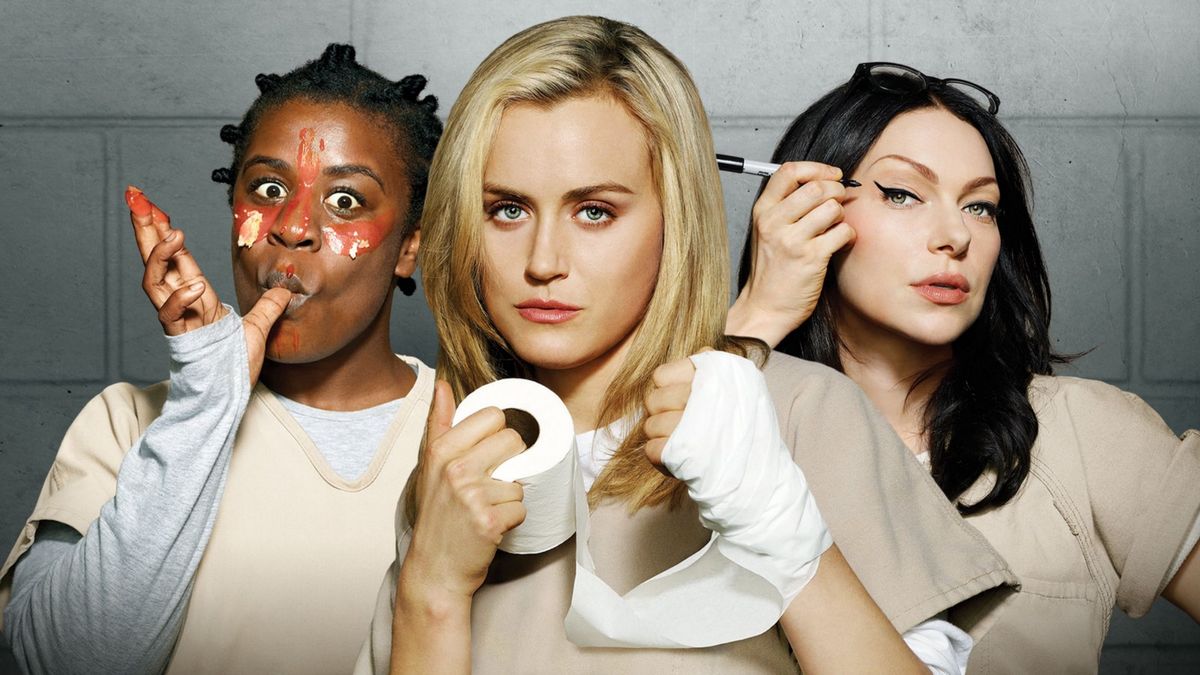 UPDATE: The new Netflix Original series Orange is the New Black is back for its sixth season! Find out why it's made our list of the best shows on Netflix Australia in our trending shows section below!
Since its arrival on Australian shores, we've enjoyed unfettered access to all of Netflix's critically-lauded original shows. Not only that, users also have access to a wealth of other licensed material.
If you're like us, you spend a good deal of your time Netflixing. Sure, Netflix also streams movies, but its television output is perhaps the reason most people have signed up for an account. There's nothing quite like firing up Netflix and binge-watching a series at your own pace. Getting instant access to entire seasons of Stranger Things from day one is half the appeal.
This is why we've created the TechRadar guide to the best shows on Netflix Australia right now (in no particular order). We'll keep this best TV show list constantly updated with the latest television shows that you should be watching on Netflix in Australia and also tell you why.
The best new shows on Netflix Australia
Of course, the list includes Netflix Australia classics like Stranger Things, House of Cards, Making a Murderer, Black Mirror, Narcos and BoJack Horseman, but there's so much more to binge on the service than the well-known titles. 
We've selected more than 60 great series worth watching over the following pages, but if you've watched 'em all already you can also find out what's new on Netflix this month right here, or cut to the chase with our quick picks for the top trending shows on Netflix right now.
The following list charts the best shows that are currently trending right now on Netflix Australia. For our complete list of shows, which has been separated into genre, continue on to the next page or select your preferred genre from the drop-down list above!
1. Orange is the New Black
Back for its sixth season, Orange is the New Black is showing no signs of slowing down, with the women of Litchfield now experiencing some new problems after having been moved into a maximum security prison following last season's riot. It may have never reached the heady heights of House Of Cards, but Orange Is The New Black is another show that proves Netflix is now up there with HBO when it comes to offering decent programming. As per its prison setting, Orange doesn't shirk the big issues of violence and rape but manages to mix these with a heady dose of black humour and some occasional romance. If you haven't gotten onboard the OITNB train, now's the time to start your binge! For those who are up to date, check out the trailer for season 6 below. 
Seasons on Netflix: 6
[embedded content]
2. Dark Tourist
While there's no shortage of traditional travel shows on television these days, the Netflix Original series Dark Tourist takes an entirely different approach by setting its sights on unconventional destinations and frightening, morally-questionable itinerary activities. NZ journalist and documentarian Daniel Farrier embarks a journey across the globe, exploring the world's most confronting tourist spots and larks. From a narco tourism experience that sees him travel around Colombia with Pablo Escobar's number one hitman, to a tour through radioactive Fukushima, Farrier visits the world's most ill-advised tourist attractions so that you don't have to. 
Seasons on Netflix: 1
[embedded content]
3. The Staircase
A harrowing true crime series that's as binge-worthy as Making A Murderer (but was actually released long before it), The Staircase follows the real-life murder trial of noted author Michael Peterson for the mysterious death of his second wife Kathleen, who violently lost her life at the bottom of the family home's staircase. While the accused vehemently protests his innocence and (most of) his family stands by him, it isn't the first staircase-based death of a loved one that's taken place in his orbit. Though it appears to be an open and shut case at first, various factors surrounding this second death seem to defy explanation. Was it an accident or was it murder? We promise that your opinion on the matter will flip frequently throughout the original eight-part series, and will continue to do so in the three brand new episodes accompanying it on Netflix.  
Seasons on Netflix: 1
[embedded content]
4. Anthony Bourdain: Parts Unknown
Following his sudden and tragic death, now might be the perfect time to watch Anthony Bourdain's most recent series, Parts Unknown, which has been recently added to Australian Netflix. They say that chefs are like the new rock stars of our time, and if that's the case, the lovably-outspoken celebrity chef and author Anthony Bourdain was the culinary equivalent of Iggy Pop and Henry Rollins rolled into one charming yet thoughtful dish. In his show Parts Unknown, Bourdain travelled further than ever before, exploring cultures and cuisines that are underrepresented on Television. Unlike most other travel/food programs, Bourdain spends an equal amount of time exploring communities and meeting the locals in an effort to understand their cultures and political landscapes. Witty, eye-opening and extremely thought-provoking, Anthony Bourdain: Parts Unknown is the most accomplished series the late writer and celebrity chef ever made. 
Seasons on Netflix: 6
[embedded content]
5. Queer Eye
Queer Eye is back! Taking over from where the original Fab Five left off, the new team has been put together with the same ultimate mission: to remodel individuals into the best possible version of themselves, whether it be their wardrobe, living arrangements, grooming, diet or even their confidence. We know, makeover shows are usually pretty lame, but this one is fantastic in the way that the guys really get to the emotional heart of each subject they undertake. Often, there's a reason these men (and for the first time, a woman) have let themselves go or have put up defensive walls against the outside world. Because the Fab Five really seem to care about them, it becomes incredibly rewarding to watch them go from unhappy to full of life. Chances are you'll cry at least once per episode. 
Seasons on Netflix: 2
[embedded content]
6. Marvel's Luke Cage
Netflix has been killing it with its Marvel shows so far, having already launched a number of top-tier shows including Daredevil and Jessica Jones. With Luke Cage, we got a new kind of hero — one who's proud to use to his powers in an effort to represent and protect his community. If you've watched Jessica Jones, you'll already be familiar with this literally unbreakable character, as he played a pivotal role in that show's first season. HIs own series, however, picks up some time after that, with Cage relocating from Hell's Kitchen to Harlem, and finding himself coming to blows with local gangsters. And, now that Luke Cage's second season has arrived on Netflix, it's time for Harlem's hero to once again re-enter our list of trending shows. Expect plenty of intense action with a real hip-hop flair. 
Series on Netflix: 2
[embedded content]
7. GLOW
From the makers of Orange is the New Black comes GLOW, a show based on a real-life all-women wrestling league that existed in the '80s. Why's it called GLOW? It stands for Gorgeous Ladies of Wrestling, that's why! The show stars Alison Brie (Community) as an aspiring actress who auditions for the wrestling gig after being fed up with the lack of meaty female roles in Hollywood. Here, she can be a fierce warrior, one who is in charge of her own destiny and gets to play opposite other strong women. Like Orange is the New Black, GLOW is a show that masterfully balances comedy and drama. In its second season, we follow the ladies as they try to keep the show on the air — we can only hope that Netflix's GLOW gets as many seasons as its real-life counterpart.  
Seasons on Netflix: 2
[embedded content]
8. The Alienist
Set at the turn of the 20th century, The Alienist finds New York City gripped by the heinous serial murders of young male prostitutes. With the city in a panic, police commissioner Theodore Roosevelt (Brian Geraghty) appoints a team to track and apprehend the killer. This includes the unorthodox criminal psychologist, Laszlo Kreizler (Daniel Brühl), New York Times illustrator John Moore (Luke Evans) and aspiring detective Sara Howard (Dakota Fanning). A harrowing mystery that will have you on the edge of your seat, The Alienist is a grisly crime thriller in the vein of Mindhunter and From Hell. 
Seasons on Netflix: 1
[embedded content]
9. Lost in Space
Based on the classic 1960s television series (and rather forgettable 1990s film) of the same name, Lost in Space is the latest show to get its own Netflix makeover. The space colonist family Robinson has found itself stranded on a mysterious planet once again, and it's up to them to find a way off that rock and back on course to its actual destination. Darker and more serious in tone than the original series, the new Lost in Space still offers the same sense of wonder, albeit with a new emphasis on survival in a harsh new realm. Visually spectacular.
Seasons on Netflix: 1
[embedded content]
10. Wild Wild Country
This six-part documentary series tells the almost-unbelievable story of a utopian cult that was founded by a charismatic Indian guru and went on to build its own city in the Oregon desert. Told using news stories and archival footage from the city's heyday in combination with present-day interviews with those who were there, the slowly-escalating series jumps from free love to stoushes between cult members and local Oregonians and culminates in attempted assassinations, legal battles, bombings and mass poisonings. It'll leave you wondering who's really in the right — and pondering what rules people are willing to break as they attempt to hold on to power. Wild Wild Country is one wild, wild ride.
Seasons on Netflix: 1
[embedded content]
Want to know more about Netflix's take on binging? Watch our very own Jon Porter live on the couch discussing his time at Netflix HQ!