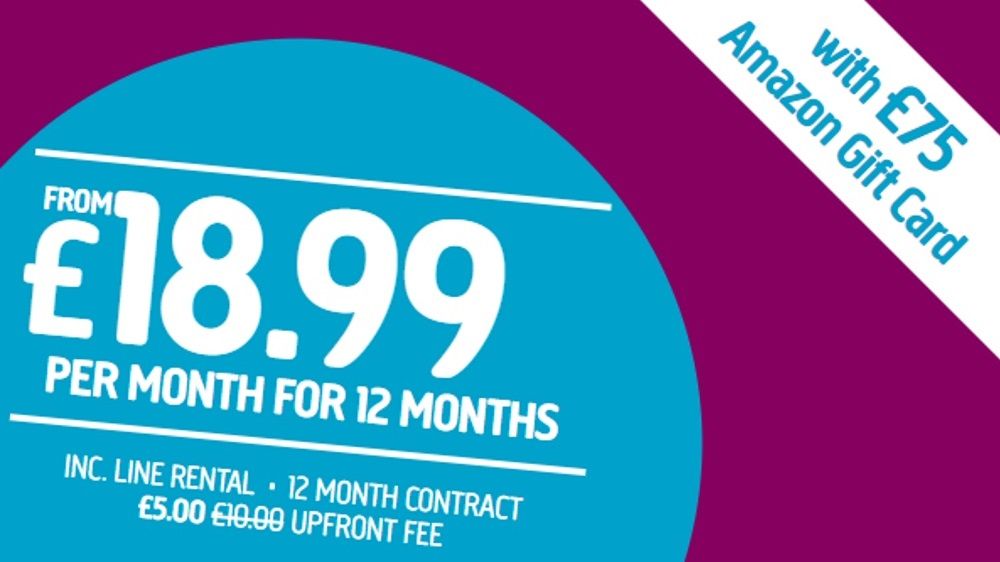 There are so many broadband deals out there promising different incentives and freebies and it can be really hard to know which ones are worth it. But Plusnet has a new broadband deal with a perk you will really want to get your hands on.
Until Wednesday November 7 Plusnet is offering a £75 Amazon.co.uk Gift Card with its Unlimited Broadband plan. Along with this bumper Amazon.co.uk Gift Card you' also be getting internet with average speeds of 10Mb and free landline calls to Plusnet customers. 
The package will cost you £18.99 per month and is a 12 month contract. You will have to pay an upfront fee of £5 but this is a fixed price offer so you are guaranteed the same price throughout your contract. 
More on this brilliant Plusnet deal:
Plusnet Unlimited Broadband | 12 months | 10Mb average speed | Landline inc. | £5 upfront | £75 Amazon.co.uk Gift Card
This deal will give you not just reliable broadband with no risk of price hikes, but also lots of spending money for your Amazon.co.uk shopping this Christmas. All-in-all, it's one of the best cheap broadband deals you can get in the UK right now.
View Deal
What if I want a faster broadband deal?
If the 10Mb speeds of this deal just aren't doing it for you – maybe you rely on high quality 4K streaming, or just have loads of people in the house always looking to use the internet at once – Plusnet has other faster broadband deals that could be perfect for you that also come with an added bonus.
Upgrade to its Unlimited Fibre plan for an extra few pounds a month and you get some beefed up average speeds of 36Mb for faster internet use. This deal costs £23.99 a month and maintains that £5 upfront fee. This deal doesn't have the Amazon.co.uk Gift Card to sing about, but does come with £50 cashback instead which helps to make it one of the best value fibre broadband deals out there. 
If you need even faster speeds, Plusnet also offers Unlimited Fibre Extra broadband with massive average speeds of 66Mb – that equates to downloads of over 8MB per second. This one will cost you £28.99 a month and a fiver upfront, but you still get that £50 cashback.
More on that Amazon.co.uk Gift Card
Once your broadband and line rental have been activated, Plusnet says you'll be sent an email with the details of your Gift Card – then you're free to spend away to your heart's content.
It can't be traded for money but you can use it to buy anything on Amazon.co.uk. And the best bit…you'll be happy to know that the card should be with you in plenty of time for Christmas so you can use it to power through your Christmas shopping!