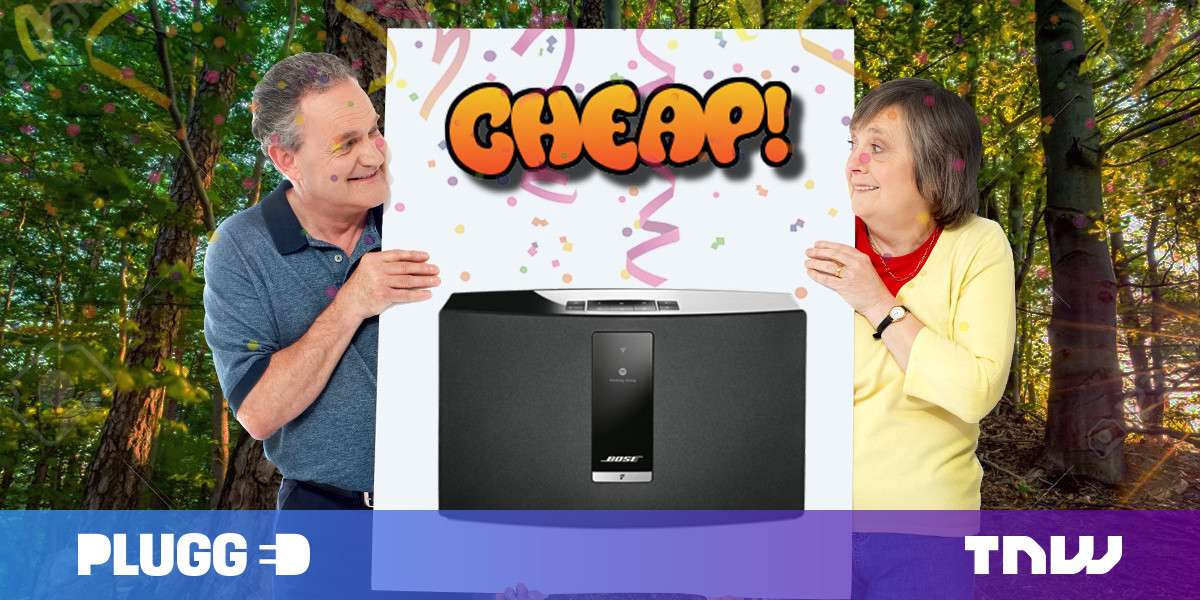 Welcome to CHEAP, our brand-new series about things that are good, but most of all, cheap. CHEAP!
Ohhh damn – you can now get a Bose SoundTouch 20 speaker for $279.95! That's $70 less than normal! Hurry up and fill your life with music!
In previous CHEAP posts, we've covered some popular portable Bluetooth speakers (which are great by the way), but these type of devices aren't for everyone. They're designed to be small (so, you know, you can move them around), and aren't equipped to deliver the best sound.
There are plenty of people looking for something beefier.
This is where speakers like the Bose SoundTouch 20 comes in. No, it's not exactly a behemoth (it weighs around 3.18kg and is 31.5cm wide), but it's large enough to pump out some powerful, detailed sound – ideal for putting in rooms across your home.
Because we're in the future now, you have a range of options when it comes to listening to the device. You can use Bluetooth, wifi, an AUX cable, Spotify, Pandora, and a whole range of other popular services. On top of this, the SoundTouch family also integrates with Alexa, meaning you can control the speakers with only your voice.
Speaking of family, it's not just the SoundTouch 20 that's on offer.
The real joy of the SoundTouch range of speakers comes from how they all work together. You can get your music to follow you through rooms, play the same thing throughout the house, or, even better, play different tunes in each space. Just imagine that joyous cacophony.
Anyway, the offer runs until March 30, so you have a few days left to fill your life with Bose-level sound. Until then, you can grab the delicious SoundTouch 20 here!
---
This post includes affiliate links to products that you can buy online. If you purchase them through our links, we get a small cut of the revenue.
---
TNW Conference 2019 is coming! Check out our glorious new location, inspiring lineup of speakers and activities, and how to be a part of this annual tech bonanza by clicking here.
For more gear, gadget, and hardware news and reviews, follow Plugged on
Twitter and
Flipboard.

Published March 25, 2019 — 10:46 UTC
Price
$
279,95
ProductSoundtouch 20 by Bose