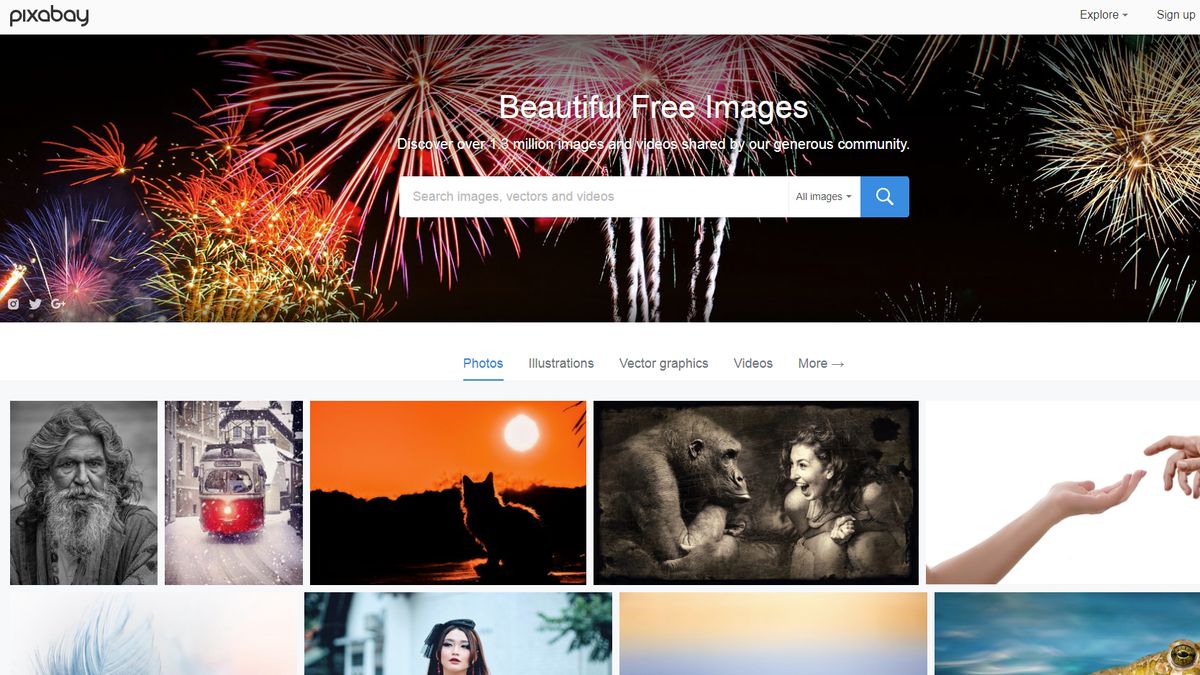 The best free image hosting websites
Ubiquitous cloud computing and the advent of smartphones with superb connectivity and compact-beating cameras have turned us into trigger-happy snappers and eager uploaders.
While Facebook remains the top destination for pictures, other image hosting websites (free or paid) have mushroomed in popularity as folks look for a safe abode for photos that have a serious propensity to be shared and potentially go viral.
When it comes to sussing out the best online home for your pics and vids, you will want to check out where these services are based, and whether or not they require registration. You'll also need to consider other features: storage space, file size limits, file support, how easy it is to upload pictures, platforms supported, and whether there's capacity for direct linking, image galleries, editing capabilities and more.
Note that image hosting websites are fundamentally different from online photo printing or backup services – the latter are used primarily to keep a copy of pictures online, with sharing being a minor consideration. At any rate, let's take a look at some of our favorite free image hosting websites.
Best free image hosting websites in 2018
King of the image sharing jungle
No registration needed
Refreshing lack of limitations
Lossy compression applied to some pics
Imgur is by far the biggest image hosting website in the world (and one of the top 50 online properties). You don't have to register to use it and everything is pretty much unlimited with three exceptions: you're limited to uploading up to 50 pictures per IP address per hour, the maximum file size for non-animated images is 20MB, and 200MB for GIFs.
Files are kept online forever but just be aware that the service does apply lossy compression to non-animated images over 1MB (for anonymous uploads) and 5MB (for account holders). So don't use this as an online backup service for your pictures. There are also a plethora of tools available either produced by Imgur or members of the very active user community.
A weighty brand with many millions of users behind it
1TB of storage
Neat editing tools
Smart photo management
It's difficult to mention free image hosting and not bring Flickr into the conversation. The site experienced a meteoric rise under the ownership of Yahoo and Oath/Verizon since 2017, and targets the prosumer audience rather than casual happy GIFer users. Flickr's base offering remains free with 1TB of storage, powerful photo editing tools and smart photo management, while its paid-for Pro Plus boasts advanced stats, ad-free browsing and a desktop auto-uploader.
With tens of millions of subscribers, Flickr has managed to build one of the biggest photo communities on the web. Also note that if you are in the market for an Adobe Creative Cloud subscription, you can get a 15% discount, which should be more than enough to buy the paid-for Flickr account.
This lesser-known outfit has some cool features
Great for swift creation of thumbnail galleries
Optional registration
Only supports JPG, GIF and PNG files
This little-known image hosting website has a unique feature which makes it massively useful for those looking to create thumbnail galleries very quickly. You can upload compressed ZIP files (up to 250MB in size), ideal for archives without index. There is a 10MB file size download limit for pictures, with no limits on the number of uploads/downloads, or how long a file is hosted – only JPG, GIF and PNG files are supported, though.
Unlike others, Imagebam's focus is entirely on hosting pictures rather than fostering a community and encouraging discoverability. While registration is optional, it provides you with photo management tools, and the ability to organize your images and galleries.
Minimalist option for those who like things streamlined
Dead simple drag-and-drop UI
No limit on number of files
No extra features or trimmings
It's near impossible to go more minimalist than Imgbb and that's probably why it's one of the more popular image hosting websites around. Simply drag-and-drop your files on the homepage and you're ready to go. There's a 16MB limit (all major image file formats are supported), but no limit to the number of files you can upload, or restrictions on how long they can remain online. Imgbb doesn't require the user to register – just be aware that all the pictures you upload will be reviewed by human editors.
Another streamlined and simple image bank
Very easy-to-use
Can upload via FTP
File size restricted to 1.5MB
Like Imagebam, Imagetitan doesn't operate an entire community, instead simply providing a straightforward browser-based interface. There are no mobile apps here – you can only upload files smaller Than 1.5MB, and only the three major image file types are accepted (JPG, GIF and PNG). There's no limit to the number of files you can upload, and no bandwidth restrictions, plus the pictures will remain online for as long as you want.
You are provided with a deletion code to remove pictures at a later date. You don't need to register and you can upload pictures via FTP (up to 100 of them). Hot-linking is not prohibited but Imagetitan doesn't provide direct links.
Upmarket image hosting service
Pics can be up to 40MB in size
You can earn a larger daily upload allowance
Strict image quality guidelines
At the other end of the spectrum is Pixabay, a popular upmarket image hosting service that pegs itself as an online community of people who publish high quality copyright-free images and videos. To be part of this exclusive club, however, you must stick to the site's stringent image quality guidelines, which means that all the photos are vetted by humans.
Login is compulsory and the mobile apps do not currently support direct image uploads. Pictures need to be at least 3,000 pixels wide, up to 40MB in size, and you can upload up to 10 pictures in 10 days. High quality images won't effect the upload limit and the more high quality images you submit, the more your daily granted number of uploads will increase.
Other popular image hosting sites include…
Tinypic: A fast, simple and reliable free video and image hosting site owned by Photobucket. There is no registration or login required, simply submit your picture or video.
Use.com: Another well-loved free image hosting website that offers unlimited uploads, perpetual online storage and unlimited bandwidth. Use.com boasts an extra level of privacy by allowing you to share photos and videos with just your friends and family – or with the whole world if you prefer.
Pexels: One of the growing rivals to Pixabay, Pexel wants to help designers and bloggers – and indeed everyone who is looking for an image – to find great photos that they can use everywhere for free. All photos submitted are therefore released under the CC0 license which means pictures can be used for free without attribution.
Deviantart: By far the biggest community of image sharers in the world is Deviantart. An "online social network for artists and enthusiasts" is how the service describes itself, and 45 million or so registered members have uploaded millions of pieces of art online. This is probably as far away as you can get from the likes of Imgur and traditional image hosting websites.